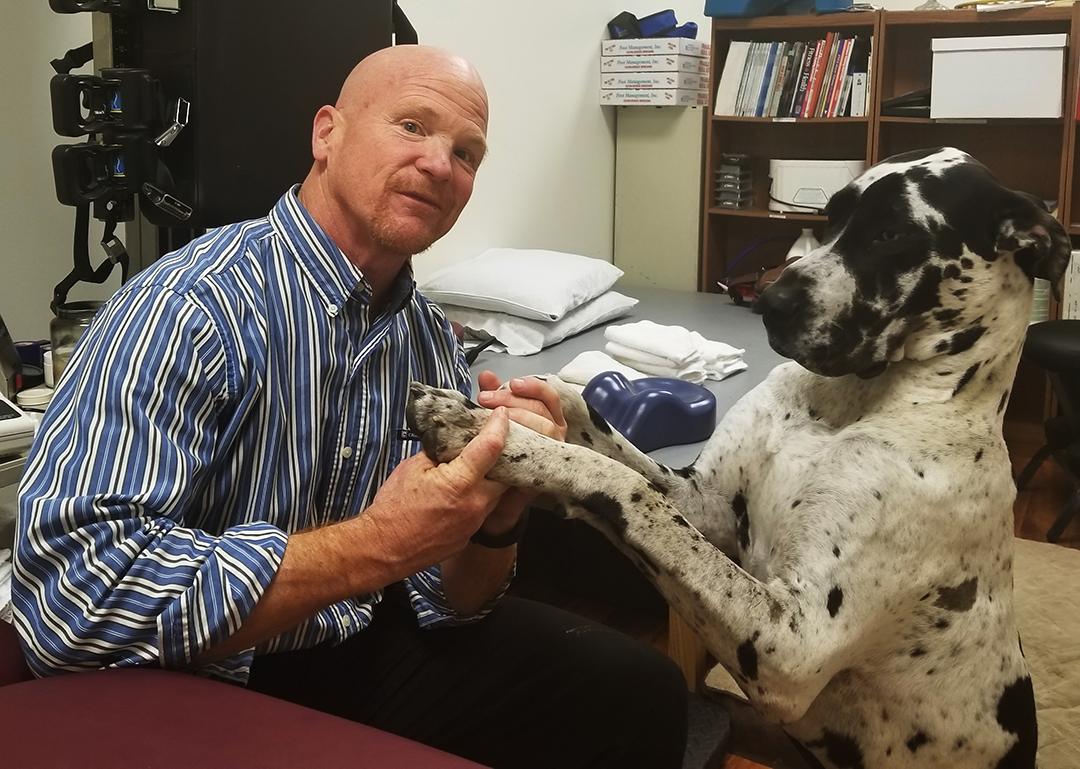 Mike Holliday, PT, ATC, CSCS
    Mike Holliday
has been involved in the fitness industry for over 30 Years. He holds a Bachelor's of Science in Physical Therapy as well as Athletic Training/Exercise Physiology. He holds certifications from 3 nationally recognized associations as an Athletic Trainer, Strength and Conditioning Specialist, Health Promotion Director and Personal Trainer.
Mike served with the West Virginia Army National Guard for 6 years, where he was responsible for the physical fitness of over 100 soldiers before, during and after Operation Desert Storm, both in the US, Saudi Arabia, Iraq and Kuwait. He then served with the Naval Reserve, as an officer at Bethesda Naval Hospital, with the primary duty of Command Fitness Leader for nearly 400 reservists.
After working as a staff PT with a hospital based home health agency, Mike saw many "lifestyle" related disabilities, which may have been prevented. Additionally, Holliday volunteered as the athletic trainer for the local Phillip Barbour High School Volleyball, Basketball, Softball, and Football. When athletes were injured and needed formal therapy, they had to travel 25-50 miles for rehab. This prompted him to design and build a fitness center/PT clinic, with a focus on prevention first, through proper wellness and conditioning programs, as well as state of the art rehab.
Above all, Holliday believes in leading by example. Strength training 6 days per week and aerobic training 3-4 days, as well as strict attention to a healthy diet, are all part of his personal regime. It is truly Mike's goal to help others to live happier, healthier, more productive lives on the playing field, on the job, or simply around the house or farm.
Bachelor's of Science in Physical Therapy
Bachelor's of Science in Athletic Training/Exercise Physiology
Served with the West Virginia Army National Guard for 6 years.
Served with the Naval Reserve as a Command Fitness Leader
Over 30 Years Experience
OUR STORY
The WELLSMART WAY
To service his patients w/the greatest care, Mike treats only one patient at a time. Setting aside at least one hour for a thorough evaluation (identifying the cause, not just the location of present symptoms) and 45-60+ minutes for the following goal-driven treatment sessions, Mike has achieved a greater than 95% success rate of achieving patient goals of maximized, pain-free function.

Convenience and Availability: Hours are flexible during weekdays w/early morning and late evening appointments, to accommodate patients' work, school and athletic schedules. Mike often opens his clinic to evaluate athletes after a late evening game.

Ease of Communication/consultation: After evaluating patients, Mike faxes an organized evaluation and plan of care to each patient's physician. Periodic progress reports and re-evaluations are also sent, communicating patient progress toward established goals.

WELLSMART's facility is located in the peaceful, small town of Philippi. yet is just a short drive from Belington or Elkins. State of the art equipment, for therapy and fitness, allows patients and clients to rehab and train together.
Meet Your Therapist
Mike Holliday graduated from West Virginia University, first in 1992, with a Bachelor of Science degree in Exercise Physiology, with certifications as an Athletic Trainer (NATA) as well as a Strength and Conditioning Specialist (NSCA). He continued his education at WVU, earning another BS, and his license in Physical Therapy in 1994.
Mike has continued to pursue his education and expertise, attaining another certification as a personal trainer in 2001. Additionally, he has completed several courses in myofascial release by John Barnes, PT; functional rehabilitation and training by Gary Gray, PT. He has also completed numerous continuing education courses on the shoulder, knee, lumbar and cervical spine; nutritional guidance.
Holliday has served his country, performing over 11 years in the military; 6 years w/the WV Army National Guard, including combat in Iraq with the 201st Field Artillery during Operation Desert Storm; 5+ years w/the US Naval Reserve, serving as Physical Therapist, and Command Fitness Leader at Bethesda Medical Center.
Most importantly, Mike attempts to be transparent, sharing more than just his love and passion for treating the physical body. In addition to his blessings and strengths in the fields of fitness and rehabilitation, Mike has allowed God to work through him, using his weaknesses and struggles w/ alcoholism and a failed marriage, to help others find hope and true freedom, found only in Jesus Christ. Holliday is active in his local church, Horizons, as well as Celebrate Recovery, a Christ-centered program for anyone w/hurts, habits or hang-ups.